Whether it's listening to the Aussies at close of play, reading the views in the press or just watching with my own eyes I've been continually reminded of England's darkest days. But this time it isn't the English side that are making me think back to a time when we went a decade without a series win against a top side, when the likes of Mark Ealham, Martin McCague and Chris Cowdrey were answers to what must have been some seriously odd questions. The last one may have been something along the lines of 'why don't we pick someone whose dad had a good record against the Aussies?" And while Shaun Marsh may one day get a game against England it's been a constant source of enjoyment at how much the Aussies resemble us at our worst. So while England continue to make merry I thought I'd highlight the ten reasons why Australia are the new England. Hell, they may end up saving this Test and winning the next three. So if I don't do it now I may not get another chance.
1. Dropped catches and general poor fielding – At times it's been like watching an Aussie side made up of eleven Phil Tufnell's (4'36 in). There have been too many dropped catches & missed run outs to list them all but here are five of the 'best' moments courtesy of cricinfo.
Brisbane, ENG 1st innings
| | |
| --- | --- |
| 23.1 | Watson to Cook, no run, 134.8 kph, dropped! And it's the debutant! Similar to the Strauss dismissal, short and Cook cracked it straight to Doherty at point, who jumped to take it above his head, had a couple of grabs at it but it ends on the turf. Big moment that, how will he respond |
Brisbane, ENG 2nd innings
| | |
| --- | --- |
| 38.5 | Doherty to Strauss, 1 run, 88.5 kph, dropped. Oh Mitchell. Find yourself a hole to fall into. Strauss skipped down the track and smacked a firm chance straight to him, he was dozing, and was late to jump to take the chance and it burst through his hands. You can really feel his pain |
| | |
| --- | --- |
| 116.6 | Watson to Trott, no run, 131.1 kph, dropped! Horrible miss from Clarke at first slip! Oh dear, that pretty much sums up the flat mood among the Australians out in the middle, a genuine edge as Trott tries to cut too close to his body and you won't get many easier catches at slip |
Adelaide, ENG 1st innings
| | |
| --- | --- |
| 7.6 | Bollinger to Trott, 2 runs, 138.5 kph, dropped by Hussey at gully! That was sliced off the front foot, it went fast and low but a regulation chance at that position. That's a huge let-off, and Bollinger isn't happy |
| | |
| --- | --- |
| 46.4 | Harris to Trott, 2 runs, 136.1 kph, dropped! Oh dear, Haddin has put down a sitter! Another bouncer and Trott gloved an attempted pull behind, got on Haddin a touch quicker than expected and burst through the hands |
2. Being dominated in sessions – At lunch on day three at Adelaide England had won thirteen of the previous fourteen sessions. The only one they missed out on was the pointless one at the end of day five in Brisbane. And they'd have shared that one if Paul Collingwood hadn't dropped Shane Watson at first slip. Australia used to talk about mental disintegration. Watching their amateurish fielding and the lackluster nature of their bowling hints that they are finally experiencing a taste of their own medicine.
3. Headlines such as these -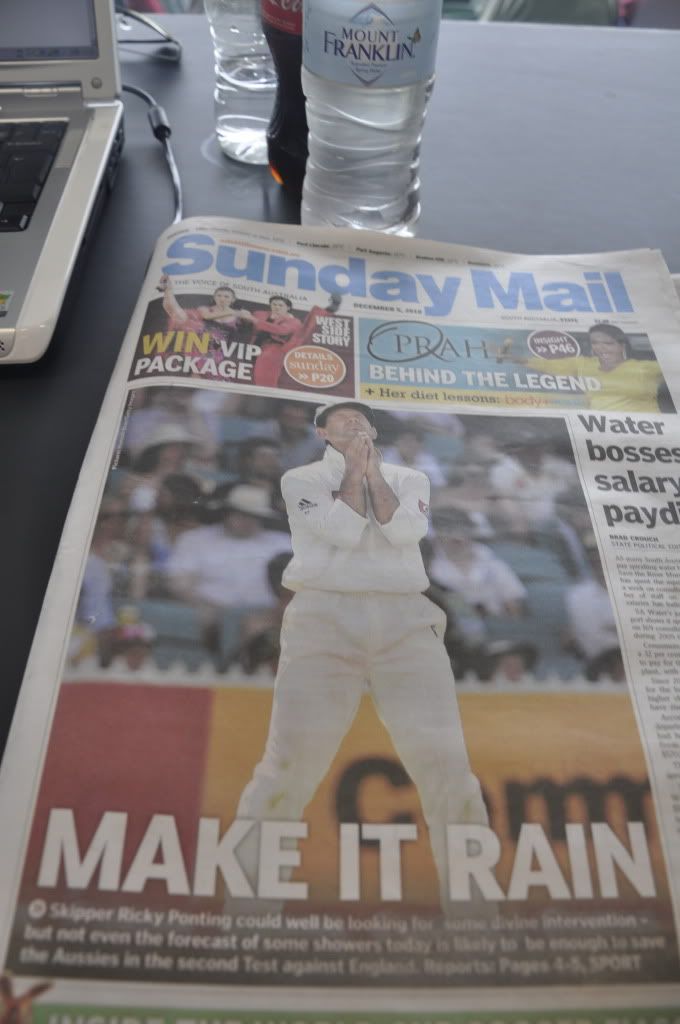 4. Not being able to get batsmen out – One of the most memorable feats that Aussies love to hark back to was in the 1989 Ashes in England. Captain Steve Waugh scored one century & two fifties to amass 506 runs in eight innings at an average of 127. Alastair Cook has already scored his two centuries and a fifty with 450 runs at over 200 in just THREE innings!
5. Watching the opposition show how it's supposed to be done – Shane Warne is on Channel 9 commentary duty for this series and long may he remain there. Yesterday he was saying that Australia need to learn from the way England's bowlers worked as a pack in the first innings. Two evenings ago Michael Hussey spoke to the press following Australia's 245 all out on the opening day. He flagged up the way England fought back after being dismissed in Brisbane for 260 as the model to follow. When the Australians are using England as the barometer of excellence you know they are struggling.
6. Humungous scores! – Allowing the opposition to score 517 for 1 (or 1 for 517) & 454 for 4 (or 4 for 454). Either way you say it. Nuff said!
7. Not possessing a killer instinct – Back in the dark old days it was almost as though Australia would toy with England. They'd let them win a session here or there but when it came to the big moments they'd turn up the pressure and close the door firmly in their faces. But in Brisbane, Australia had England under the cosh on three separate occasions and failed to finish them off. England battled back after suffering Strauss being dismissed in the first over on the first morning, being on the wrong end of a Peter Siddle hat-trick and then a 220 run deficit on first innings. But not only did England fight back on each and every occasion by the end they had turned the tables so that it was Australia who were the ones under pressure by the final day.
8. Having the media on their backs – Steve Waugh used to cackle away reading the British press the days after England had toiled in the field. Getting the cricket hacks on the player's backs was just one more step towards Aussie Ashes success. Three days before this series started one national newspaper printed a photo of the Ashes wrapped in tinsel writing it may as well give the gift early. The papers have leapt onto the backs of Michael Clarke, Ricky Ponting and seen off Mitchell Johnson. While Xavier Doherty is already being written off for the Perth Test.
9. Picking players on the basis of one good performance – and on the topic of Xavier Doherty, a man who averages 48 in first-class cricket, who's already got bowling figures higher than Don Bradman's batting average. Seemingly picked because he had one good showing in an ODI against Sri Lanka, because Nathan Hauritz isn't Shane Warne and also of KP's poor record to left-handed spinners (whilst overlooking the fact that England won the 2009 Ashes without a telling contribution from him) Doherty looks like he's going to head back to obscurity even quicker than he arrived.
10. Picking injured players – Not a press conference goes by without a question being raised about Michael Clarke's back. While Mitchell Johnson's mental state, Ryan Harris's knees or Doug Bollinger's side strain are all too regular reminders of the days England would head to Australia with three or four guys battling for fitness only for them to unsurprisingly fail to take the field in the opening game.
It may be that come the end of the series I look back at this list and laugh bitterly at my eagerness to let benign batting conditions on days two and three at Adelaide cloud my judgment. But as I've said many times before you have got to enjoy the good times and as I said in a text to my brother last night "I. Am. Loving. This".