My sixth match in Australia has just finished and for the first time I'm not looking back at a loss. The match may have petered out in the end but there were enough twists and turns to keep us on the edge of our seats. With bowlers taking five-fors and batsmen making centuries the result swung in the balance for four days with the victor in doubt until the first hour had passed without incident on day five.
And as good as these last couple of days have been there have been a couple of reminders that things could be even better. When last here in 2006/07 it was as part of a fantastic four. Four singleton strangers who'd toured alone yet ended up meeting in Brisbane and by the end of the 5-0 whitewash had become firm friends who would turn up four years later at my stag do or engagement parties.
And though they aren't all here in physical form both Nathan and I have been reminded of their presence. Whether it be supportive texts from Danny
"Fucking hell Strauss! I'm going to bed"
And there have been other incidents that have made me think of them sitting alongside us as we've chewed our fingernails and watched a beachball sail past our heads. Crap tattoos it seems aren't only the preserve of Manchester born German residing postmen.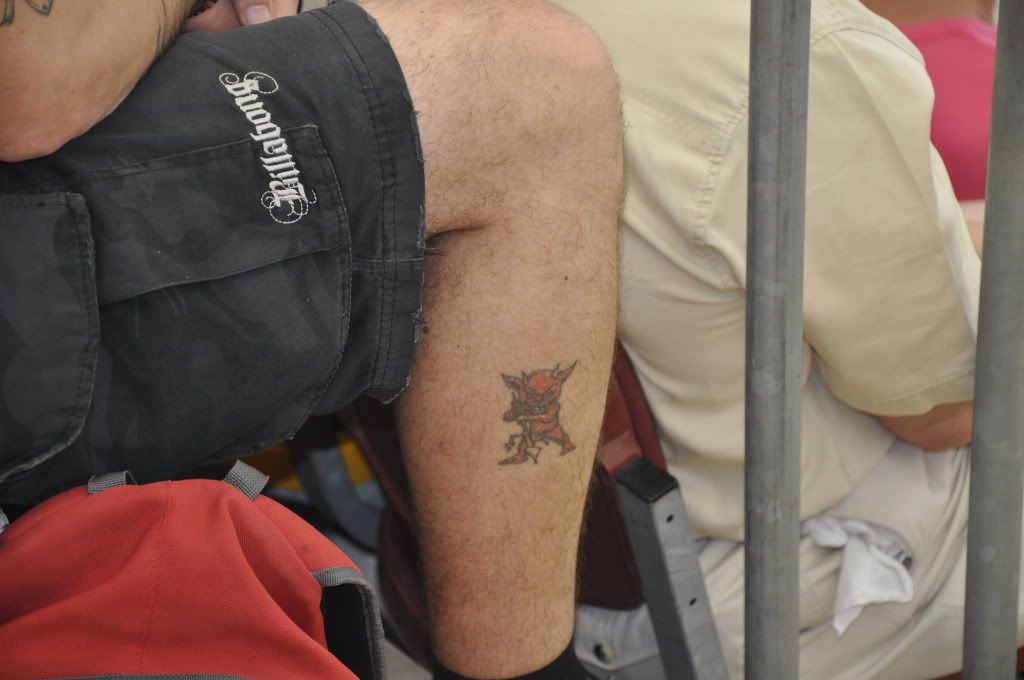 While it doesn't take too much of a leap of imagination to think that Nathan could have transported to the Ashes in the year 2032 and is actually sitting next to beanie-less Danny who seemed today to be sleeping nearly as much as he did four years ago. Although for slightly different reasons.