I got told off in German last night. That hasn't happened for a while. The people living next door to me and Mark in our Barbados apartment are old, rude and quick to moan in Germanic. They took umbrage that our door was open while we were talking. So we told them to stuff it. Well, Mark did. The only German I know is how to count to ten and the word for breakfast.
I didn't come to the Caribbean to be barked at in a foreign language. I came here for the cricket. But for a working holiday based around the sport I've seen surprisingly little of the stuff since leaving England at the start of February. Only five days play (plus 10 balls at the Sir Viv) in three weeks has meant for plenty of relaxation and surprisingly few snaps on facebook of the insides of various cricket grounds. But with two weeks til I head back home there's still the little matter of two Tests to fit in to decide the outcome of a stop start series.
As I write from my vantage point in the media centre at the Kensington Oval in Barbados I'm partly seeking shelter from the blazing sun and partly taking advantage of a perfect view of the Test match. England again on top but questions over whether thay can bowl out this West Indies team.
I've been in Barbados a week now and have used my time trying to make up for this chronic shortage of cricket in my life. Namely by playing it against some locals at the ground nearest my apartment, watching England in action in a warm up game and playing for the Barmy Army against a top Barbados team. A match report of which can be read
here
. The description of my innings about the only way you could add gloss to my resolute innings of 13.
But wait! There's more. For I have also spent many an hour waiting around for Andrew Strauss to speak to the press prior to the Test match, getting in some beach cricket with these top lads from Bristol that Mark and I have been hanging around with, watching a 'Legends' Twenty20 game at the same local ground I played on two days pervious, and as of yesterday catching the current Test match. It's been great.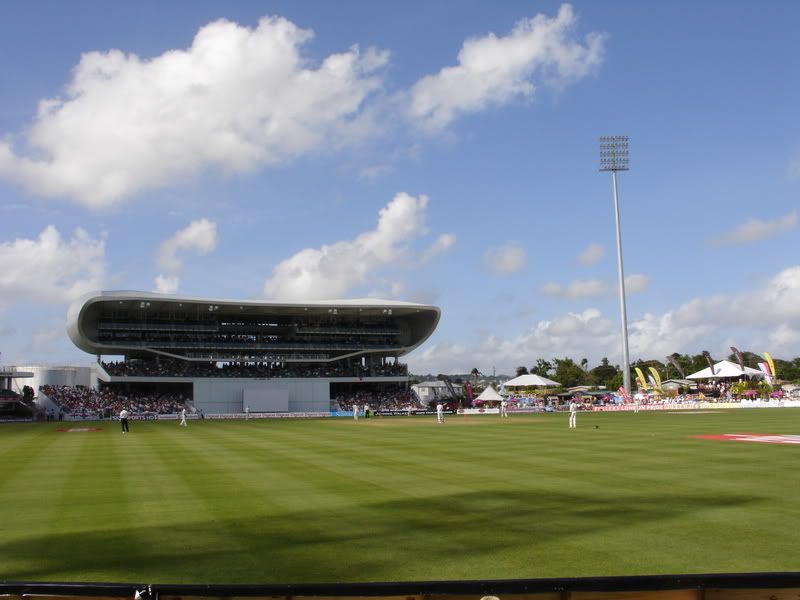 Barbados is only a 50 minute first class flight away from Antigua and both boast pleasant people, plenty of beaches, hot sun, cheap rum and living in close proximity to Mark Dew. But there are differences.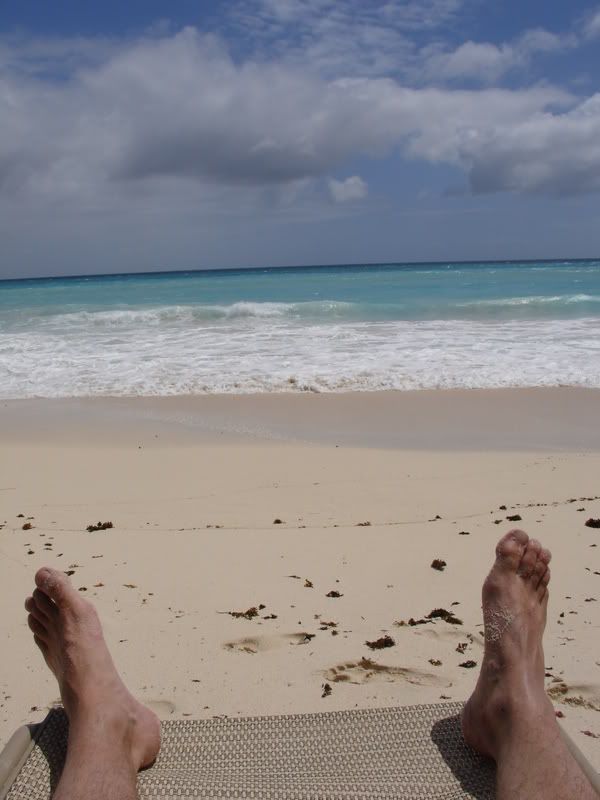 The first of which I noticed when I got here when the guy in front of us was forced to strip down to his pants to get through customs. It appears that wearing camouflage clothing is illegal for some reason. Those wearing camo shorts were not permitted entry to the cricket ground. Which is all a bit strange considering how easy it appears to be to buy weed or coke here.
Another difference is that the place is more modern and Westernised. Saturday night on the St Lawrence Gap could have been Spain and that is not what I want from my trips abroad. Busy bars lined the street, cheap drinks and thousands of Brits hanging around. It was a bit crap and I didn't stick around for long. Tonight should be better though. It's Mark's birthday so we're off to a local market town called Oistins for a flying fish supper, plenty of rum and live music.
But as I said earlier, ultimately I am here for the cricket. And that is what will be filling 90% of my time between now and home time. That and another three encounters with Caribbean Airlines. I can't wait.