The first overseas cricket tour I can remember listening to ball-by-ball coverage of was England's trip to the West Indies in 1989/90. Earlier home tours readily spring to mind. As do TV highlights of tours to Australia. But because of a manageable time difference, the appeal of playing the very best and by now in my own small bedroom complete with a cheapo radio I can remember excitedly shouting out score updates to my dad as I listened with rapt attention, calculator in hand, ticking off each and every run needed, as England threatened an almighty upset before foundering in true Calypso Collapso style.
Under Graham Gooch, England went 1-0 up in the series and if not for go slow tactics by the Windies bowlers should have won the third match, after a washout had prevented any play in the second. A decade long affection for all things Alec Stewart begun as the Surrey boy made his debut and it was a series that was even mentioned in parliament. For despite Gooch suffering an injury that ruled him out of the remainder of the tour it left England needing to avoid defeat in the remaining two matches to end it with at least a share of the spoils.
Unfortunately, Allan Lamb couldn't prevent heavy defeat against the undisputed number one side in world cricket. Sir Viv Richards spoiling a near perfect copy book with his aggressive intimidation of the umpires which brought an end to the series and Rob Bailey's career. But England came back home with heads held high and after listening to the heavy reggae sounds that blared out of Test Match Special's (TMS) coverage, the heavy duty use of the conch shell, the descriptions of the various characters that permeated Caribbean cricket all rolled up into an image that left a lasting impression.
Just shy of twenty years later and I find myself in the enviable position where not only do I have a job that lets me go away for weeks at a time to watch cricket I also get paid to do so. And the Windies '09 tour was set to be my third oversea tour. By rights, considering the date, this 'blog entry should a) be really upbeat and b) report about my first day in Kingston. Unfortunately though. Life just doesn't always work out that way.
For years I've airily dismissed UK weather forecasts. I have backed myself to forecast the following days weather with as much accuracy as any expert. And I've often been proved right. However there's no doubt about it this time - the Met Office got it spot on. They forecast snow showers and snow showers are what we got.
Throught Sunday I pointed out to Fe the snow flurries that has been predicted. Heavier stuff was set for nightfall and true to their word as soon as the sun had dipped below the surface it started.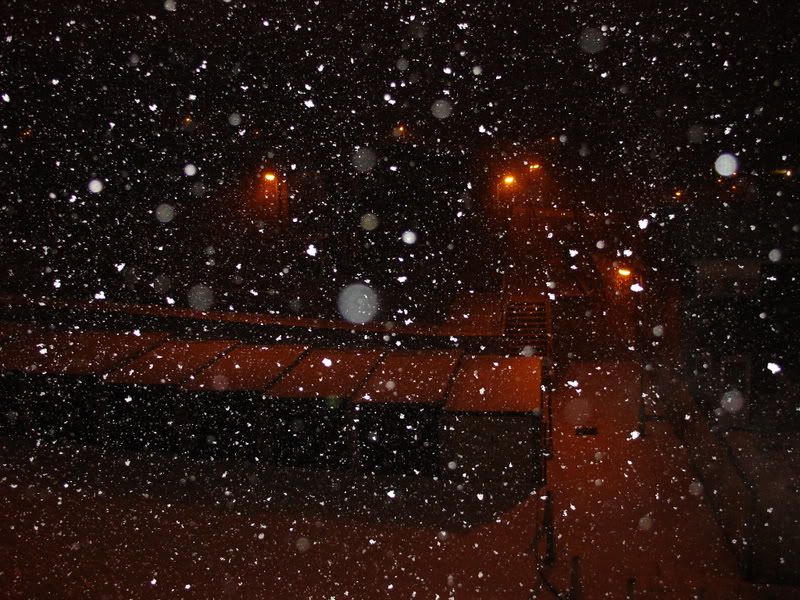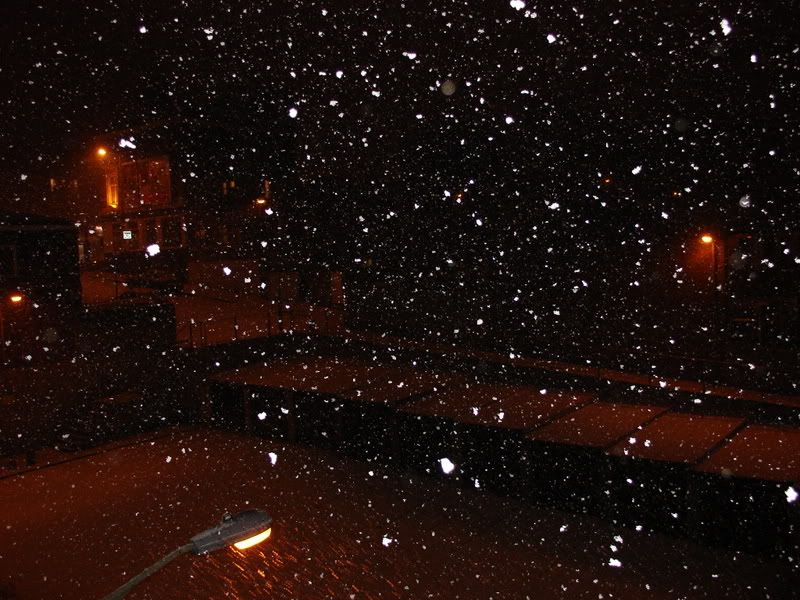 Immediately both myself and Mark, who had arrived from Germany the day before, began to worry about delays at the airport. Our flight was due to take off on Monday morning at 9.40am. And we both admitted we would be extremely fortunate for that to take place on time. We decided to aim for the train rather than get a cab as we figured the rail would be safer and also more reliable than the roads at that time of the morning. And I even had time for a positive thought as I consoled myself, the nearer the flight was to lunchtime the more acceptable it would become to have a couple of pre-flight drinks to settle the nerves.
Fe, other hand, was fairly cheerful as it was only the second occasion that she could experience snow in the city. And it took our minds off the fact that we were to be apart from the best part of six weeks.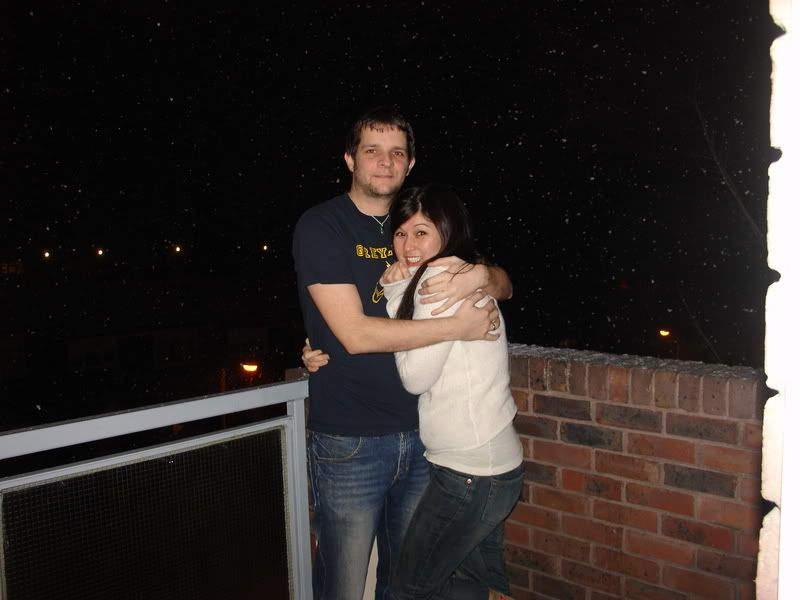 With her eyes and my mind on the weather we got to sleep early, a 4am wake up call awaiting. At half past one my stressed mind awoke to the sounds of the neighbours below. And for a good half an hour I tossed and turned before fitful sleep once again took over. Anxious dreams dipped in and out and I was anything but rested when the alarm went off.
And after opening the blinds in my kitchen the anxiety returned as I was confronted by all fifteen confidently predicted centimetres of snow covering all London ground as far as the eye could see.
After unpacking my packed laptop and checking out the various train/flight/weather sites we realised we had a problem. No Southern Rail Services, Gatwick Express shut, the airport itself had been closed for two hours the night before and with the roads unpassable we were stuck. London buses weren't operating and you know it's dangerous when even the cabbies aren't prepared to make money, so bad were the driving conditions.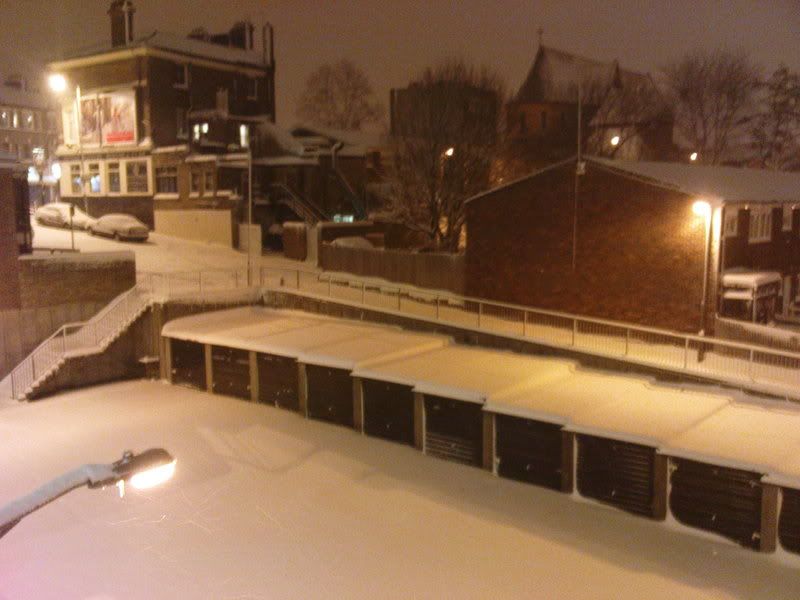 By this time Fe was up and fretting about getting to the other side of London and college. With the BBC website informing us the buses weren't working we realised we'd have to walk down Lavender Hill to Clapham Junction. It was at this point that Mark regretted his decision not to bother bringing a coat with him and I wondered what it was going to be like to have sodden feet for the duration of a ten hour flight.
But as we set off the surreal nature of our predicament took hold. It was 5am as the snow drifted down and we crunched our way down what is normally a busy London road. Cars were struggling to get a grip on the roads and we saw several being pushed up the hill. Alongside us lone stragglers, most of whom wearing luminous Post Office overcoats, cheeerfully made their own ways to work. A few optimists stood at bus stops either unaware the wait would be slightly longer than normal or deciding to shield from the snow.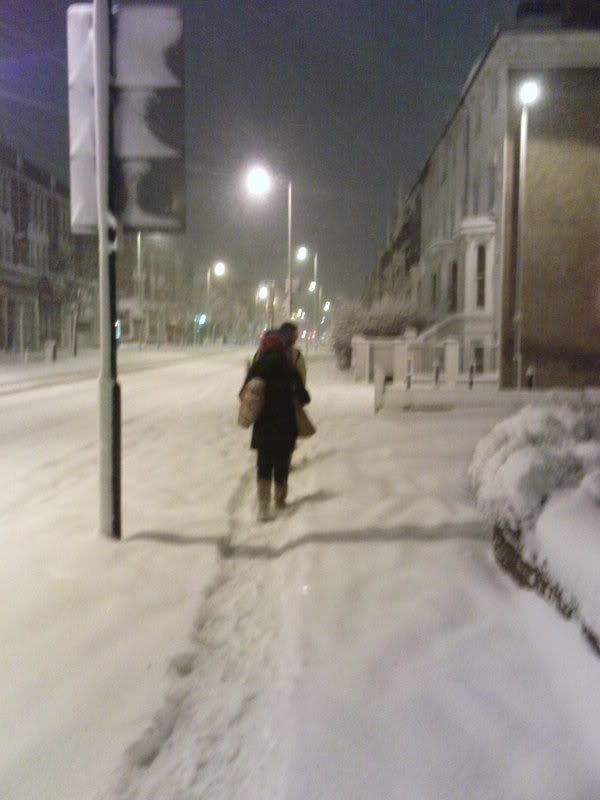 Upon arrival at Clapham Junction we made our way to Platform 13 and almost immediately a train arrived from Victoria that was heading onto Gatwick. It wasn't the goodbye I'd envisaged I'd be having with Fe. And it was heartbreaking to have to leave her alone on that platform with her still unsure of what she was going to do to get to college. But as it turned out I was to see her again that day and speak to her even sooner.
For it was almost immediately that we realised further problems were going to hamper our journey. For the train had gone no further than a few feet before it shuddered to a stop. Huge sparks of electricity were firing up alongside the train as it kept trying to move forward. Inside the power was cutting in and out. At times we'd be plunged into complete darkness only to have our faces lit up by the electricity off the tracks.
It felt like many minutes but could have been longer or shorter and my phone went off. It was Fe. "What's wrong with your train?' She could still see it. It hadn't even managed to leave the platform and was probably drawing stares of concern from those still at the station.
Somehow it did manage to make it's way out of Clapham Junction, albeit at a crawl and mentally I calculated that we'd probably get to Gatwick an hour late. Still well within time to catch our flight. That was unless we were all to be electrocuted as the sound of the sparks got louder and the sight brighter.
We crawled along, passing Balham, Streatham Common, Norbury and Thornton Heath in super slow time. I called Fe who had decided to cross platforms and catch a train to Waterloo. One had actually turned up only for the doors to be frozen shut. The exasperated driver winding down his windows and ordering everyone to go home and make up an excuse about not being able to get into work.
She'd already embarked on her walk back up Lavender Hill by the time our train had passed and stopped 100 metres outside Selhurst Station. The time was 7am.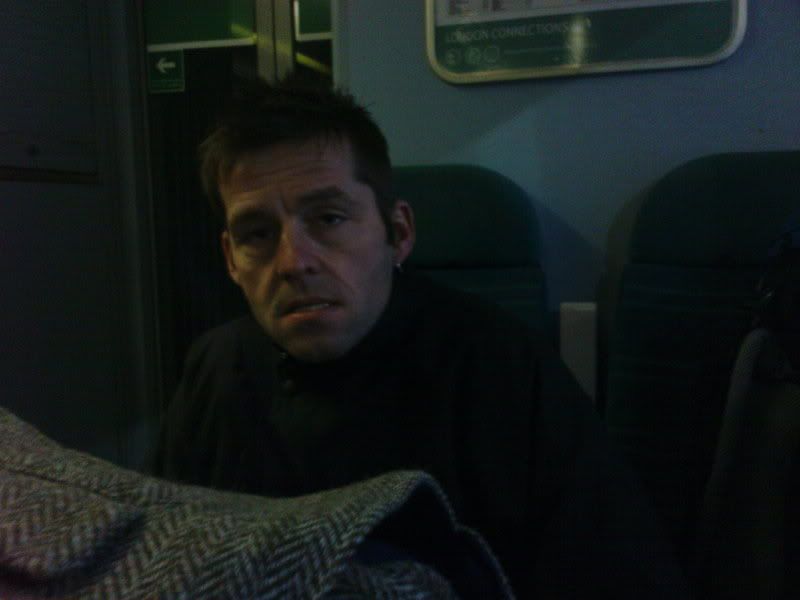 The next four hours and 44 minutes didn't contain much in the way of entertainment. The train repeatedly attempted to move forward but because of the snow couldn't get any power from the third rail. In the end the driver had to put on the brakes to stop it sliding backwards. After an hour or so the driver decided to let it roll back into Selhurst Station. We were stuck.
Once we got to Selhurst we went down to the ticket office to check whether any cabs were available. They were not. We then went back to the train to await further news. There wasn't any. Instead we watched as early morning turned into day. As news of our plane being delayed gave us renewed hope. Of reports that a train was being sent from East Croydon to tow us one station nearer to our destination.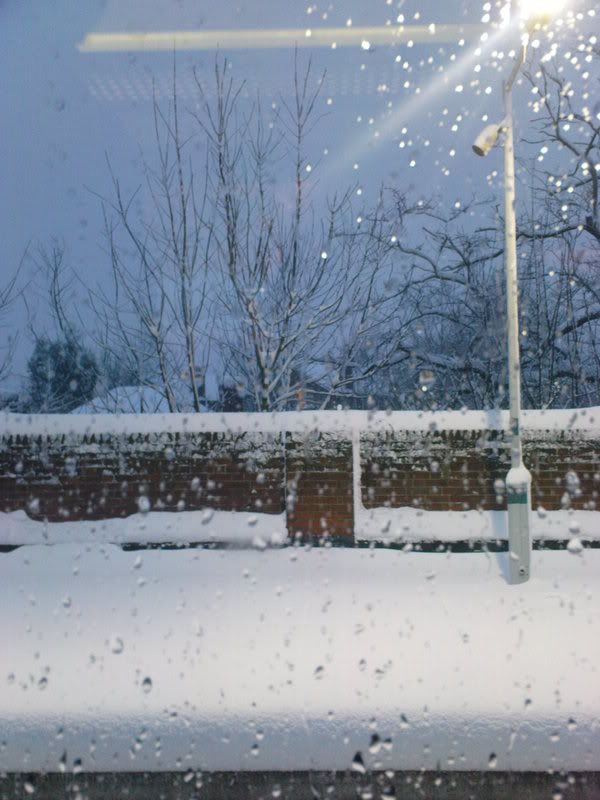 As the clock went past the time that our plane was due to leave I started to work out what could be done. Calls to Virgin Atlantic from my sister confirmed that there was a flight to Kingston available on Thursday which we would be switched to free of charge. A BA Flight was due to fly in the afternoon. Maybe my travel insurance would cover it? As bored fellow passengers threw snowballs on the platform it seemed that at the very least we had options.
But as soon as the increasingly exasperated rail staff started encouraging us to complain to Southern Rail and as the snow continued to fall I realised that it was going to be down to me to get us out of Selhurst.
So I called my good old friend Sinan who risked his life by driving from his house near Streatham Common to pick us up. And it was while waiting for him that we heard the news that our plane had gone.
But still we attempted to make it to Gatwick figuring we could argue our case onto another flight. But after an hour of blocked roads, and with traffic at a crawl we pitched up the white flag. Not that you could have seen it.
We turned tail and slowly made our way back to Clapham Junction. I picked up my phone and rang Virgin Atlantic to find out that the Thursday flight to Kingston was in fact full. As was the flights to Montego Bay. The first possible flight to Jamaica on a Virgin Flight wasn't until the following Monday. A full week after we were supposed to arrive and the day after the first Test was scheduled to finish. And that's when things took an even darker turn for the worse.
For when we got back I was informed by the Indian voice on the end of the phone (I make the point that she was Indian because up until this point her and her colleagues had almost sounded excited at the thought of snow covering an entire city) that because we had missed our outward flight they had automatically cancelled our return flight from Tobago. And that plane was now full.
With my sister due to get married on the 14th March and the last Test finishing on the 10th it was always going to be pushing things. Up until yesterday the plan was to fly into Jamaica on the 2nd Feb, to Antigua on the 10th, to Barbados on the 22nd, to Trinidad on the 3rd March before a flight to Tobago on the 11th and home to Gatwick on the 12th. Flights, cricket and accomodation all sorted. And now all that was out the window.
I demanded to know why my flight back from Tobago had been cancelled. And just like the 'Little Britain' sketch 'Computer says no' but without any humour whatsoever, so exactly like the 'Little Britain' sketch, she read from a pre-prepared script to every question I threw at her.
'If you miss your outward flight, then your return flight is immediately cancelled'. But why? When hundreds of people are missing flights because of the worst snow storm in 18 years do you not override the systems that YOU programmed and make sure this doesn't happen? 'Computer says No'. Why did you sell our tickets within an hour of cancelling them instead of calling us to see if we still wanted them? 'Computer says No. Why didn't someone warn us about this when we called prior to our plane leaving? No answer.
I wanted to scream. But you know what these people are like. The first sign of a raised voice and they hang up. So I had to bite my tongue and see what they could offer us in its place.
At 6pm, on Monday 2nd Feb, instead of being within 2 hours of touching down, I'd re-arranged my holiday. The Jamaica Test is a write-off. The Jamaica accomodation is a write-off. The internal flight from Kingston to Antigua is a write-0ff. The last day of the last Test in Trinidad is a write-off as is the flight from Trinidad to Tobago. A new flight from Trinidad to Antigua has been bought. New accomodation for one night only in Antigua is still to be arranged. New accomodation in Antigua had been arranged thanks to my Uncle and Aunt who are flying out as I write.
And all of this had been arranged against the backdrop of my neighbours fighting, screaming and doing god knows what downstairs.
After heading to the pub for a couple of beers, eating some gorgeous food courtesy of Fe's sister, and waving goodbye to Mark, who is staying at his friend's until we meet at Clapham Junction for round two tomorrow at 5am, I collapsed in my bed. It was 8.40pm. I was beyond tired. I inserted two ear-plugs into place and awoke 14 hours later to find it hadn't all been a bad dream.