Top three injuries

1 – Tom breaking his rib

2 – Rand's bald bonce beach bounce

3 – The flying bat

(Honourable mention to Gigi's knees which became a more and more painful sight every day)

Thursday

Without doubt the toughest day of the trip. For despite having a solid 7 hours sleep most of us awoke aching, tired and in the mood for anything but an all day surf session. Especially as it was once again pissing it down.

We were supposedly staying in tents on the Thursday night but as the weather turned out so bad the idea got shelved. It was just a shame that the organisers hadn't bothered to put in place a back up plan.

We got to our destination and were all pretty horrified to see the conditions that we were expected to surf in.




Huge waves crashed onto the shore and the panoply of skull crushing rocks on display did nothing to dispel our fears.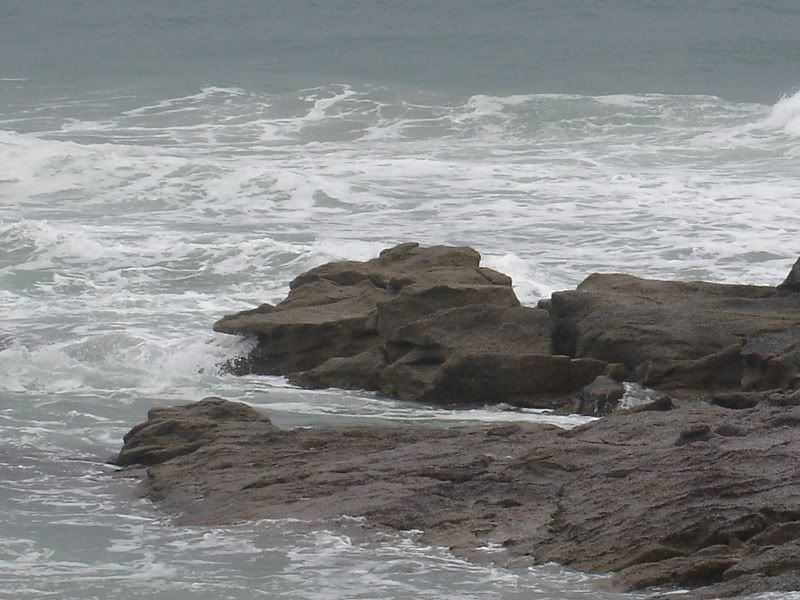 Thankfully, Dylan (our surf instructor) agreed and we moved beach. But as the wind lashed in, the rain soaked us and we stood in under some inadequate shelter I couldn't help but be reminded of my Glastonbury washout the previous year.




Bizarrely, there was no mention of the shark when we finally made it into the water. Tom was expecting people to refuse to surf considering how close we'd been to fish food the day before. And despite numbers of people bailing out due to injury and sickness most of us made a good go of it on the Thursday.

For me it was the best days surfing of the trip. I was making some real headway and managing to surf into shore about 40% of the time. At the same time those people who'd picked it up quickly were starting to get frustrated with their progress. But the standout person from our 4-day group was still Leesa, the Finnish girl.

While we were surfing away a couple of the instructors were desperately trying to find us accommodation for the night. The fact that they hadn't even considered the fact that we might not be able to camp was pretty astounding. In the end it worked out okay as they booked us into this brilliant pub for the night. But this wasn't before some of us started to take matters into our own hands to try and secure a place to stay.

I'll not bore you with the details of what turned out to be yet another huge piss up. But there was no mistaking the city types as I took over the pool table and Tom won $100 on the slot machines. Then, after kicking out time, we all went back upstairs for more alcohol, drunken high jinks, while those inclined took advantage of the locked showers.

Friday

Friday was the final day of the tour and took us up the coast to Byron Bay. It was also 'competition day' when everyone got to show exactly what had been learnt that week. More importantly the sun finally came out. After two days of doom and gloom everything suddenly took on a brighter outlook.

Needless to say I won't be returning to England in a blaze of glory, dripping with gold medals, fully expecting a ticket tape welcome. But I did okay. The eventual winner of the entire tournament was Leesa, from our 4-day tour. And considering the group we'd joined on the first night were on a 5-day surfing she'd done exceptionally well.




Friday also contained one of the funniest sporting injuries of the week when Rand managed to cut his head and scalp himself at the same time. 'I've never bounced on my head like that before' was how he described it afterwards.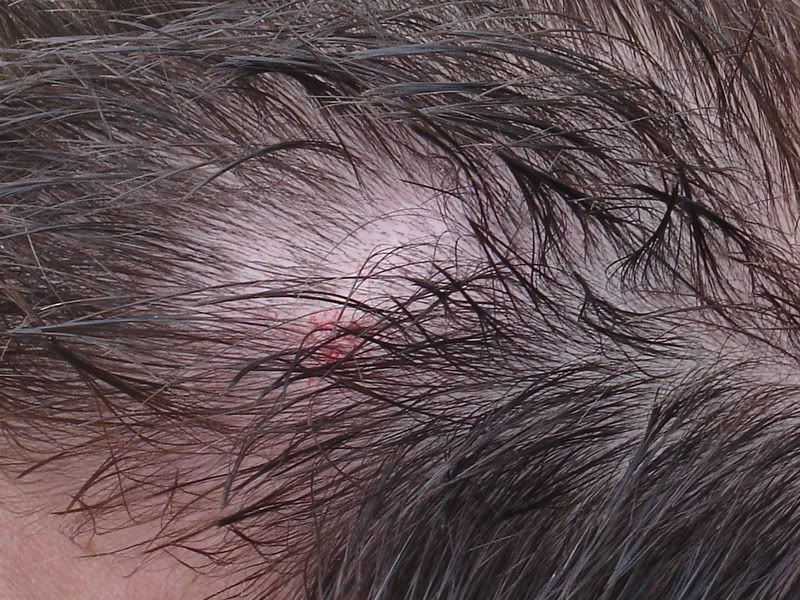 An experienced surfer Rand had spent much of the time surfing the deep waves while we messed about in the white water.
We'd seen him wipe out a couple of times in impressively painful looking fashion.
But with this injury he'd managed it in about a foot of water.
He'd run in to the surf at top speed, attempted to jump on his board but it got stuck in the sand, so he'd gone head first into the ground.
As he made his way back to the side I checked his head and saw that he was bleeding.
It was nothing more than a graze and he thought he'd got away with it until Tom noticed that he'd also managed to shave a section of his head.
It was about the size of a 50p piece.
Ha ha!!!
He spent the rest of his holiday trying to comb over it.
Friday night in Byron Bay
That evening we went out in Byron Bay for the first time. I'll describe Byron Bay another day, but as I write in an internet café in Surfers Paradise I almost feel homesick for the place. I'd recommend anyone to stop by for a couple of days. And that's despite our initial impression.

We rolled into town on the Friday evening and while everyone else on the tour had booked into a hostel this was where Tom and I planned to luxuriate. We'd booked a plush apartment two minutes from the centre of town.




So while our fellow surfers were dealing with soggy clothing, cramped conditions, dangerously low ceiling fans and weirdo backpackers, Tom and I were trying to work out how to use our 42-inch plasma screen.

This place had it all. Swimming pool, hot tub, 2 showers, living room, balcony, washing machine, it even had a dishwasher. It was so nice. I wish I was still there now. It also had enough room for four people to stay in so we invited Rand to come and stay with us for a couple of nights.

Rand is definitely a guy that some of you London lot will meet one day. When I first met him, standing outside the coach stop for the surf tour, I thought he might just be a stereotypical US soldier. How wrong could I be? He is funny as fuck, political and great company. He also loves old zombie movies which is good as Tom is exactly the same. He's due to come to London in March so you'll get to find out for yourself then.

Anyway, we got into Byron at about 5pm and went to our apartment to get ready. We met up with the tour group at 7.30pm at Paul Hogan's pub. Then went and had some great Mexican food. The night was going well until we were ushered into an establishment called 'Cheeky Monkeys'. The surf instructors must have been on the take to bring us here. It was as rough as old boot. It made Caesers nightclub look like a Members Only club.

We stood there for about the time it takes to drink half a pint and left. The place was awful. It wasn't intimidating just crap. Groups of fat men roamed around, 'orrible local girls tried there best to make themselves look as unappealing as possible and in the middle of it all a heavily pregnant woman danced on the table. Nice.

We decided to head back to Paul Hogan's pub and were immediately pleased with our decision. Spacious with a great atmosphere and a live band that were actually pretty good we'd struck it lucky. It was just a shame that we got kicked out within 30 minutes of getting there.

Some of the girls had followed us and as they got to the door at 12.05 weren't allowed in. So we helped them jump the fence. Which wasn't the best of ideas as we were immediately seen by the security and booted out. Great.

So we tried a last roll of the dice and went in a club that our tour bus driver had described as 'a piece of shit' as he drove us through town.

After spending four days in isolation on beaches up and down the coast we shouldn't have been surprised to find the place quite so overwhelming. A death-metal band finished up as we entered. And the place looked ready to kick off at any point. We'd probably have been able to deal with it better if we hadn't run into two of the town's many Friday night freaks.

As soon as Rand walked into this place this girl of about 22 started running round him. She wouldn't stop. She just kept running round him whilst asking him weird questions like 'do you live in Hollywood city?' and 'are you going to shoot me?'

Because the music was so loud we couldn't make out what she was saying. But just by watching the look on Rand's face we knew he was getting freaked out. He looked like he was seeing the horrors of war. And considering he has actually seen the horrors of war that's saying something.
Rand made his excuses and left but not before getting started on by another dude.
The anti-American feeling here is very obvious.
I also had a weird run in with a 50 year old woman who started off by telling me I reminded her of her nephew 'please don't be a come on, please don't be a come on' and ended up by accusing me of wanting to spit on her cigarette.
It was a disappointing and freakish end to the week.
*****A list of all the injuries picked up on our surfing tour would go something like this broken rib, cut feet, sliced finger webbing, bald bonce, scarred knees, bruised ribs, grazed everything, bad back*****